To share assets, any authorized user can create unique links to them and send these links to other users.
To view all previously created links to an asset, select it in the feed. You can also select multiple assets and view all the links to those assets.
You can view all the created links to the asset in the Share section of the sidebar.
All links created by you or other users are displayed in the Links subsection of the Permissions section of the sidebar.
In this case, both previously created links to the selected asset and links to all collections that include the asset are displayed. Links to collections containing this asset are marked with

next to their address, and links to the asset are marked with

.
The links can be:
Direct: they lead to the original file; when you click on direct links, the asset is downloaded.
Indirect: they lead to the asset feed that displays only the assets that the user has shared. A user who clicks on the link can also view the asset properties. An authorized user will also have access to the Export section.
The links are also divided into:
Permanent: links without expiration date (default value).
Expiring links: links with an expiration date. To create such a link, change the radio button position in the Link Expiration field.
For each link, the following information is displayed: creation date, expiration date, and address (URL).
To copy a link, click on its URL or the icon next to the link.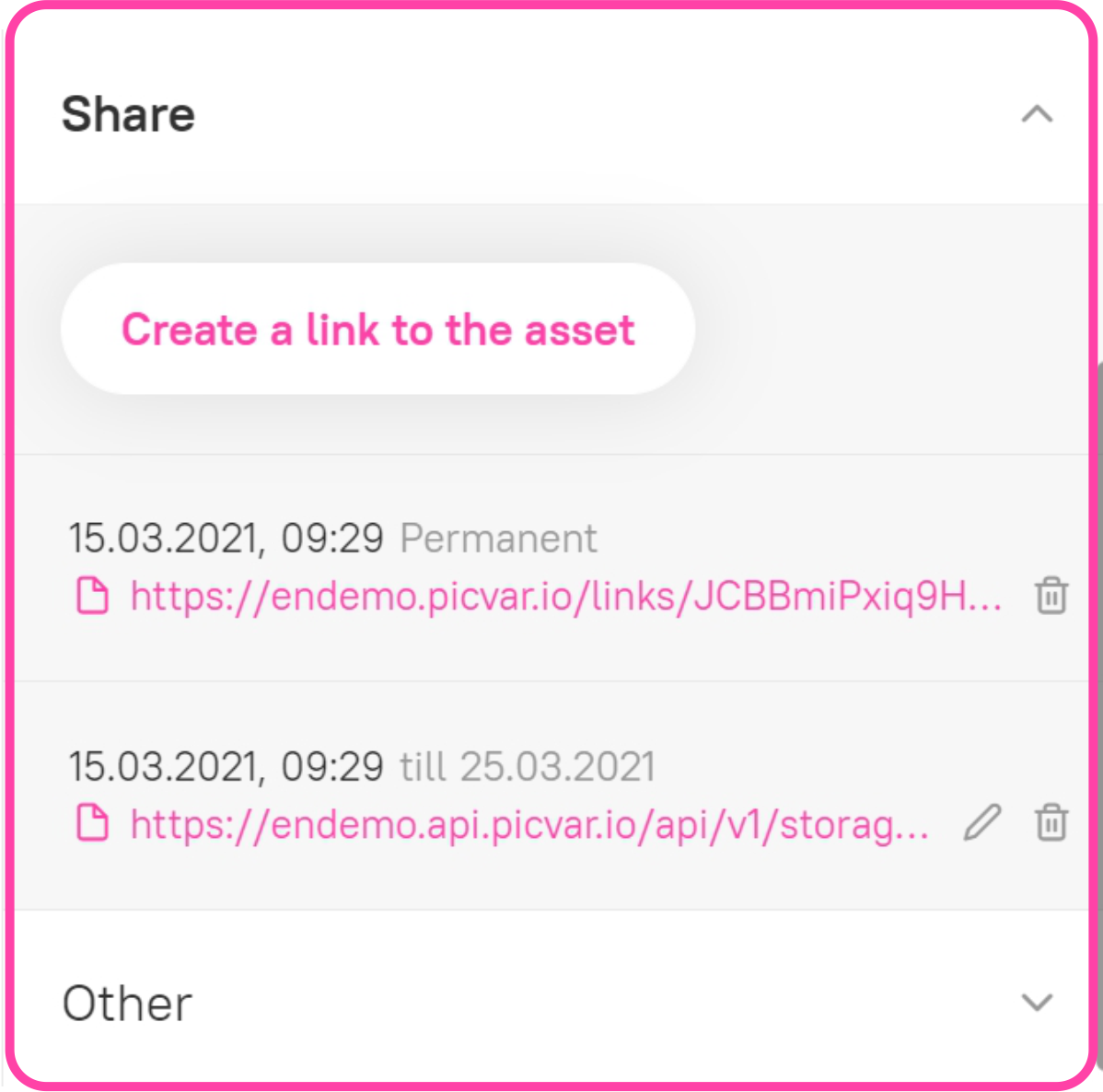 To confirm you want to create the link and save its properties, click Save in the edit link block. If you click Cancel, the link creation process will be cancelled.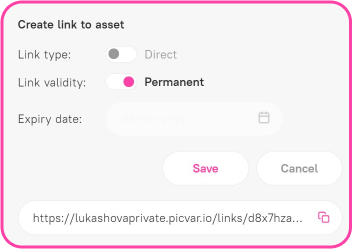 You can:
Change the properties of an existing temporary link, for example, change the expiration date or link type. To do this, click on next to the link. In the edit form that appears, modify the link properties and click Save. If you click Cancel, the changes will not be saved.
You can delete the link by clicking on next to the link. You will be prompted to confirm the deletion—click Delete. After that, this link will no longer be valid. When the previously sent link is clicked, the user will see a page with the error 404.